We live in a technological age. The so-called In the Digital Age. In these times, everything and most rapidly, technologies are evolving. Among them is the field in which we, the company "INNOTECH" operate – security systems. This field is becoming more and more technological. AI (artificial intelligence) technologies and many others are actively introduced in it. This time we want to tell you about the so-called Full Color technology, which is a novelty in the field of video surveillance systems.
FULL COLOR TECHNOLOGY combines two revolutionary hardware solutions: advanced lenses that deliver up to F1.0 and high-sensitivity sensors with increased photoelectric conversion effect, as well as BBAR over-the-top overlays. Used in conjunction with a wide range of light sources and lasers to generate multiple harmonics.) Anti-reflective coating and ultra-low-dispersion optical glass, effectively stabilizes image sharpness and regulates color saturation. Also, the cameras are equipped with a soft light bulb and an anti-reflective diffuser to reduce the risk of over-exposure.
The right combination of these technologies gives a unique video surveillance device that provides bright and clear color images at night or in the absence of light.
DAHUA SECURITY, the world leader in innovative technologies in the field of security and video surveillance, continues to create and introduce the latest technologies in the market. One of the latest and most high-profile updates from the company is FULL COLOR technology. Cameras with this technology open up new possibilities for night surveillance, even in absolute darkness, Full Color cameras provide clear, high-resolution color images.
Full-color 2.0
Review
With constant improvements in software and hardware, the new generation of full color technology is now equipped with a dual sensor structure and software optimization. It can take high quality color images even when the lights are off, which significantly reduces the need for lighting. In addition, its 4K resolution makes it possible to capture brightly colored details at night. It also offers optical zoom and AI (analytics) features that save costs and improve performance, making it suitable for a variety of scenarios.
Full Color Basic Technologies
Dual lens
Dual Light Fusion technology works even without additional white light, which reduces light pollution.
High precision AA (Active Alignment) process
Varifocal lens
It's 2.7mm-12mm focal length provides approx. 5x optical zoom.
Analytical functions
It offers AI search using color attributes and AI schedules based on different time periods.
4K color image
Its 1 / 1.2 " expanded CMOS provides a 110% increase in pixel size compared to a conventional 8MP sensor.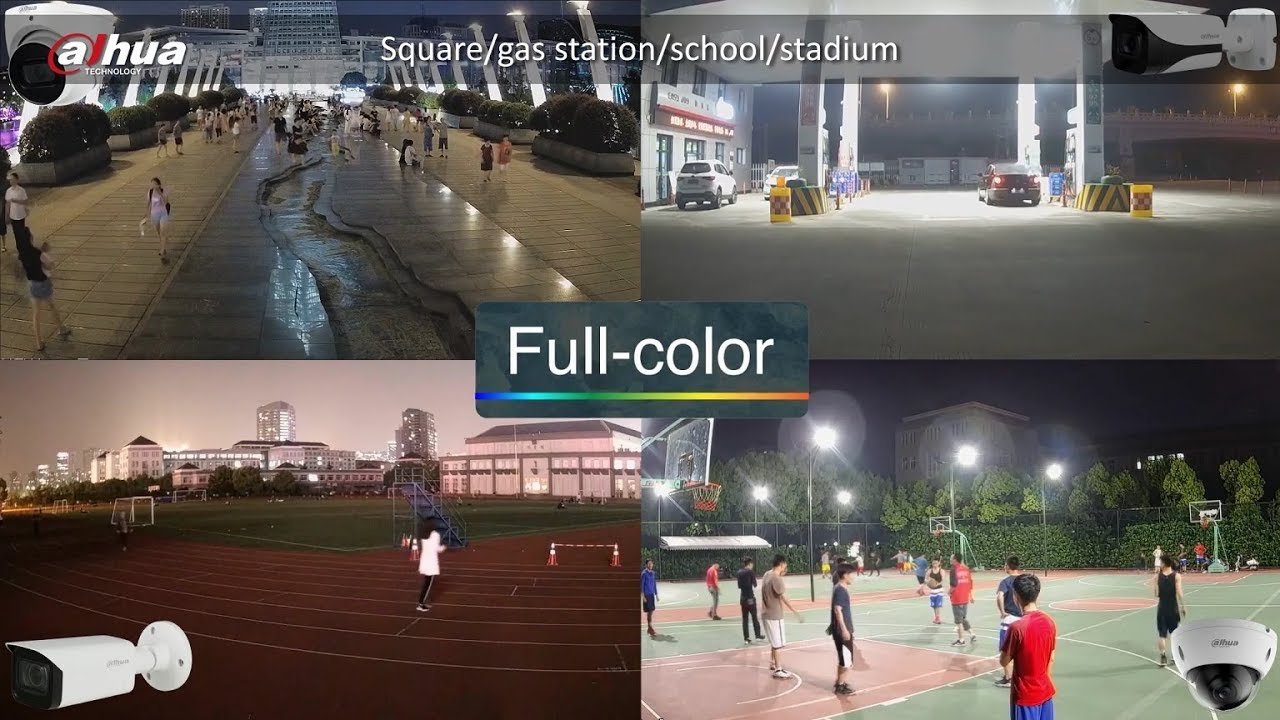 Full-color 2.0 camera highlights
Dual lens
Color images can be displayed without turning on the extra white light. It can significantly reduce light pollution in the region, making the camera an environmentally friendly device.
4K color image
Ultra HD full color night vision
42% brightness increase compared to the usual 8MP camera
Implements ultra low light and 4K real-time color images
Varifocal
Uses motorized vari-focal lenses and autofocus function, which provides great comfort and saves time and labor costs.
AI Search
Works with Dahua 5-I / L Series NVR to enable artificial intelligence search and remove event videos
Removes color attributes of human and car targets such as clothing color, car exterior, etc.
Improves search efficiency and reduces labor costs
Areas of application

Case: Dark roads at night.

Challenges:
• When people and cars are not clearly visible on the road.
• High crime rate at night.
Value:
• 24/7 color monitoring with a brighter image.
• Used as street lighting.
• Warm light deters offenders – which will help reduce crime and provide a sense of security.
Case: When an invasion occurs but no one is home.
Challenges:
• In the case of a surveillance camera, when looking at more distant objects, we can not see anything clearly.
• It is impossible to extract information useful for a police investigation.
Value:
• 24/7 color monitoring to protect the yard well.
• Remove the attackers' colored information to help police open a case.
Case: Dark environment while showing a movie.
It is essential to ensure safety when so many people gather together.
Challenge:
• We do not see anything clearly at the beginning of the movie.
• In an emergency, it is impossible to extract the information necessary to identify a person from the surveillance system
Value:
• An ideal image that helps us see more clearly.
• Provides colorful information to help police open a case quickly.
Case: Dark environment in the parking lot.
Challenge:
• It is not possible to get the color function if needed.
• Can not clearly see the number plate.
Value:
• Focus on vehicle and human color characteristics.
• Clear details are available.